Registrations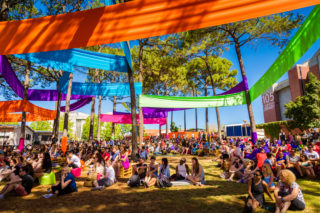 Early Bird fees before 31 July 2018
Waged Early Bird: $420
Unwaged/Student Early Bird: $180
Full fees from 1 August 2018
Waged full registration: $490
Unwaged/ Student full: $250
One day registration
Waged registration: $250
Unwaged/ Student: $125
Please note: All registration fees above are exclusive of GST, which will be added as part of the registration process.
Registration inclusions
Registration fees include morning tea, lunch, and afternoon tea for the duration of the conference (27-28 September) or for the one day that you attend. If you register for Thursday 27 September or for both days, registration will also include an evening conference reception. Please indicate when you register, whether you will be attending the reception.
Contribution to bursaries
Waged participants are invited to contribute an additional amount towards students attending the conference. Please nominate a value as an addition to your total registration amount as part of the registration process, and bursary recipients will be determined by the conference organising committee. GST will not be added to the bursary contribution.
Cancellation note
If participants are no longer able to attend the conference, a full fee refund will be given until 24 August 2018. A 50% refund will be given from 25 August until 7 September 2018. No refund will be given after 8 September 2018.
---
Conference student bursary – Abstract and bursary application deadline 31 July 2018
To all students: The conference committee is offering a bursary to student candidates to assist with attendance at the 2018 conference. These bursaries are to provide financial assistance to cover registration only to attend the conference. To find out more please refer to the Student Bursary Terms and Conditions PDF [444KB] and download the Student Bursary Application Form DOC [430KB].