Gender, sexuality and human rights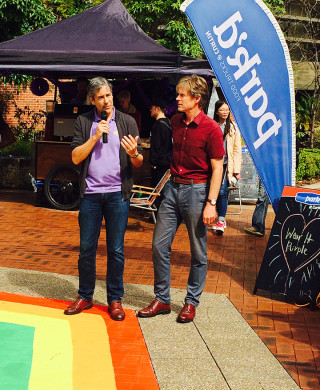 Professor Baden Offord is considered a pioneer in the field of human rights and sexuality. He is part of a scholarly and activist community that works collectively to decolonize and destabilize the study of sexuality in Southeast Asia. His key works are the landmark book Homosexual Rights as Human Rights: Activism in Indonesia, Singapore and Australia (2003), and numerous chapters and articles on Southeast Asia, human rights and LBGT activism that have appeared in the Asian Studies Review, Journal of Homosexuality, The International Journal of Sexuality and Gender Studies, Social Semiotics, Cultural Studies Review and Gay and Lesbian Issues and Psychology Review.
Since 1997, Baden has provided extensive expert testimony for Indonesian, Singaporean and Malaysian gay, lesbian and transgender asylum seekers pro bono through the New York Immigration Task Force for Gays and Lesbians as well as for numerous US law firms, the Canadian Government and he also has been a consultant for CNN.
Presently Baden is working with scholars Professor Paula Gerber (Monash), Associate Professor Anthony Langlois (Flinders) and Dr Cai Wilkinson (Deakin) researching on the human rights of LGBT people in the Asia-Pacific. Baden is a member of the international advisory board for the Palgrave Macmillan research book series, 'Gender, Sexualities and Culture in Asia'.
Offord, Baden, 'Ending Homophobia: Encounter, Recognition, Responsibility.' Paper presented at the Australian Ally Conference, Western Sydney University, 27 June 2016.
Baden Offord,  Short talk: Marriage Equality and Human Rights, Wear Purple Day event, Curtin University, 28 August 2015.
Baden Offord, 'Same Sex Kissing as a Human Right.' Paper presented at the Popular Culture Association of Australia and New Zealand, Wellington, Aotearoa/NZ, 29 June–1 July 2015.