Conference information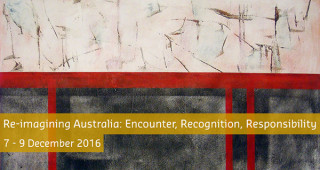 Re-imagining Australia, hosted by the Centre for Human Rights Education, Australia-Asia-Pacific Institute, and the School of Media, Culture and Creative Arts at Curtin University. 7-9 December 2016 at the Western Australia Maritime Museum.
We acknowledge that the conference is being held on the traditional lands of the Nyungar people.
News
In his role as the Asian Conference on Cultural Studies 2015 (ACCS2015) Conference Chair, Professor Baden Offord, interviews Speaker Amanda Third, of the University of Western Sydney, Australia.

The Centre's newly appointed Patron, The Honourable Michael Kirby, spends a day at Curtin and gives public lecture at the launch of the Curtin LGBTIQ Collaborative Research Network.

Special edition of the journal 'Cosmopolitan Civil Societies', guest edited by Caroline Fleay and Lisa Hartley, focusing attention on the treatment of people seeking asylum.