Current events
Subscribe to CHRE Events mailing list
---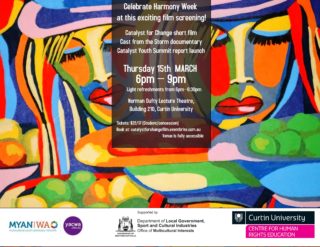 15 March 2018
Catalyst for Change film screening
Norman Dufty Lecture Theatre, Building 210:102, Curtin University, Bentley
Time: 6:00 – 9:00pm
Purchase tickets: Eventbrite
Cost: $22 or $17 concession/student
Join us to celebrate Harmony Week 2018 at this exciting youth film screening!
Do you want to know what some of WA's politicians and leaders think about Harmony Week? Or what they have to say about some of the key issues affecting refugee and migrant young people? Well, eight local young people set out to find out. This dynamic group, have spent the last month interviewing leaders in our community and have documented their findings in a short film!
On the opening day of Harmony Week, we invite you to join us for the first screening of Catalyst for Change – Harmony Week 2018. We will also launch the full report from 2017 Catalyst Youth Summit, and screen the full length documentary Cast from the Storm.
For more information, please see the Eventbrite link.
---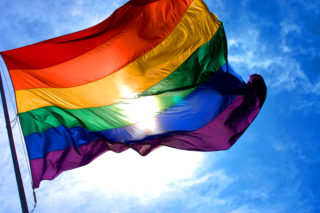 27 & 28 September 2018
Australian Ally Conference 2018
Activating Human Rights, Sexuality and Gender: Leading the Change
Curtin University, Bentley, Western Australia
The 2nd Australian Ally Network Conference will be hosted by Curtin University in Perth on 27-28 September 2018.
For more information about this conference, please visit the Conference webpages.