Current events
Subscribe to CHRE Events mailing list
---
6 November 2017
AAPI 2017 Seminar Series, Seminar 8
The Pedagogies of Human Rights
Health Sciences Boardroom, Building 400:405, Curtin University, Bentley
Time: 12:30 – 1:30pm
RSVP: Eventbrite
Speakers 
Caroline Fleay, Lisa Hartley, Baden Offord, Elfie Shiosaki and Yirga Gelaw Woldeyes from the Centre for Human Rights Education
Abstract 
Researchers in the Centre for Human Rights Education have an ongoing concern to develop new conceptual and methodological insights for the teaching of human rights, specifically from a perspective that values social and cultural diversity and different ways of knowing. In this paper, we will contextualise the role of pedagogy itself as a core method of communication, language and discourse of human rights. We explore the question of what characterises and informs a critical pedagogy of human rights? From a shared position of activating human rights through considerations of diverse identities, histories, cultures, religions, philosophies and practices, our paper will discuss some of the signature pedagogies that have become germane to how we do human rights education. We will highlight, example, how we engage with refugee rights, Indigenous rights and LGBT rights within a critical human rights teaching framework. A key argument posed in this paper will be that a meaningful approach to human rights requires a radical pedagogy that focuses on questions of social justice and human co-existence.
---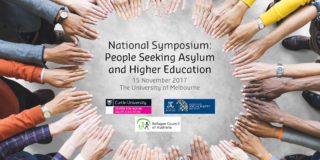 15 November 2017
National Symposium: People Seeking Asylum and Higher Education
Room 107, Building 149, William Macmahon Ball Theatre, Old Arts Building, The University of Melbourne
Time: 9:00 – 4:00pm
Expressions of Interest have closed – a good number of applicants were received from University and Community Sectors, as well as high number of students from asylum-seeking and refugee backgrounds from across the country.
Symposium Overview
Increasing attention has been paid to the barriers to accessing higher education for people seeking asylum in Australia who arrived by boat. In recent years, a number of Australian universities have responded by offering 'humanitarian scholarships' to people in this situation. However, under-examined challenges exist related to the retention, participation and success of, and support for these students in their studies.
This one-day national symposium will focus on identifying emerging challenges and future opportunities. The format will include:
a panel discussion of people seeking asylum and those from refugee backgrounds who will share their experiences of studying in higher education as a person on a temporary visa;
an exploration of community and university responses to facilitating access to higher education for this group of students; and
the sharing of research, case studies, observations, experiences from the classroom, and examples of good practice related to supporting people on temporary visas in higher education.
This symposium will work towards identifying key research/advocacy priorities and the development of an advocacy report, which can be used to speak to these issues (with – not for – students seeking asylum).
For more information, please see the Eventbrite webpage.
---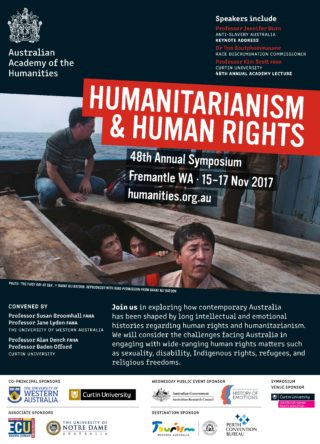 15 – 17 November 2017
Australian Academy of the Humanities 48th Symposium
Humanitarianism & Human Rights
Venues
Wednesday: Lawrence Wilson Art Gallery, University of Western Australia
Thursday and Friday: Western Australian Maritime Museum, Fremantle
The Academy's 48th Symposium will commence the afternoon of Wednesday 15 November at the University of Western Australia, with the main program on Thursday 16 and Friday 17 November at the WA Maritime Museum in Fremantle.
Coinciding with Symposium, is the annual Academy Lecture to be given by novelist, descendant of the Noongar people of Western Australia and Honorary Academy Fellow Professor Kim Scott FAHA.
About the Symposium
Curtin University is co-principal sponsor for the event (with The University of Western Australia), lead by Professor Alan Dench FAHA and Professor Baden Offord as co-convenors.
Focussing on the pressing and timely theme of humanitarianism and human rights, this year's Symposium provides a forum to address the complex challenges facing Australia with regards to human rights issues relating to sexuality, disability, Indigenous rights, the environment, refugees, and religious freedoms.
The Academy has assembled an outstanding group of speakers to present at this important event, and Curtin will be strongly represented in the program by:
·        Professor Kim Scott FAHA giving the 48th Annual Academy Lecture, a free public event on Thursday 16 November at the WA Maritime Museum.
·        Vice-Chancellor Professor Deborah Terry AO hosting a reception following the Annual Academy Lecture.
·        Elder in Residence Associate Professor Simon Forrest
·        John Curtin Distinguished Professor Suvendrini Perera
·        Professor John Kinsella
·        Associate Professor Katie Ellis
·        Dr Matthew Chrulew
·        Dr Yirga Woldeyes
The Symposium is a national public event, open to all, and will bring together a large cross-section of scholars, early career researchers, students, and representatives from government, education, peak bodies, industry and the community. It will provide a forum to exchange ideas and collaborate to find solutions on the complex, sometimes difficult, but vitally important issue of human rights. You can find the full Symposium program and registration information on the website.