Archive of projects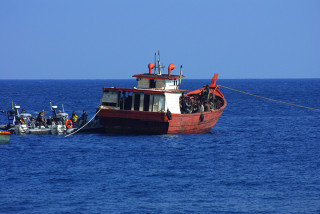 Detention on Nauru: Deterrence or despair. (Caroline Fleay and Sue Hoffman, 2012 – 2013) 
Over 1,200 asylum seekers were detained on Nauru as part of the Howard Coalition Government's Pacific Solution. Many were held there for years until either they were accepted by Australia or another country for resettlement, or were returned to their own countries when the pressure of indefinite detention became too great and their hope of finding asylum had vanished. Some of the returned asylum seekers have since journeyed back to Australia and have recently been accepted as refugees. This research project explored the policy of detention on Nauru from the perspective of those detained, as well as interrogated the claims that the Pacific Solution acted as a deterrent to the arrival of further asylum seekers by boat.
Hidden men: Mandatory detention at the Curtin Immigration Detention Centre. (Caroline Fleay, 2011 – 2013) 
This research project focused on the impacts of the mandatory detention policy on asylum seekers in the Curtin Immigration Detention Centre in remote northwest Australia. Drawing on lengthy visits to the detention centre and extensive interviews with some of those detained there upon their release, the project elevated the experiences of detained asylum seekers in the academic literature and other public domains. Download the report [PDF
Hidden men after detention: Asylum seekers in the community. (Caroline Fleay and Lisa Hartley, 2012 – 2013) 
This research project explored the experiences of asylum seekers once they had been released into the community on bridging visas or in community detention after prolonged periods of immigration detention. It also explored the services that are provided to asylum seekers in the community, and their experiences of this support.
Visiting Fellow at Oxford University's Centre for Refugee Studies (Linda Briskman)
During her six month sabbatical, Linda was a Visiting Fellow at Oxford University's Centre for Refugee Studies and also presented papers on her research at international conferences in Barcelona, Tehran and Budapest. Her sabbatical focused on asylum seeker research, particularly international policies on immigration detention. In October, Linda delivered the prestigious Annual Richardson Institute Peace Lecture at Lancaster University.
Caring for asylum seekers in Australia: Bioethics and Human Rights
ARC Discovery Grant 2007-2009 (Linda Briskman)
A research project conducted by Dr Deborah Zion (Monash University),Professor Linda Briskman (Centre for Human Rights Education, Curtin University) and Associate Professor Bebe Loff (Monash University) exploring the ethical issues of providing health care to asylum seekers in immigration detention in Australia, with a focus on the practice implications of detention, medical ethics and human rights.
The impact of excision legislation on the human rights of Christmas Islanders and immigration detainees (Linda Briskman and Lucy Fiske)
This research was supported by a Curtin Internal Research Grant and was part of research by the Centre on Christmas Island.
Christmas Island and the welcoming of strangers (Linda Briskman)
Funded by the Centre for Advanced Studies in Australia, Asia and the Pacific (CASAAP). Completed research (2009) with Michelle Dimasi resluting in two publications.
The containment of human rights in Australia (Caroline Fleay)
A research project conducted by Dr Caroline Fleay into Australian human rights policies under the Howard government (1996-2007) with a focus on refugee and asylum seeker policies, Australia-China human rights relations, and government responses to domestic and international human rights critics.
Australian responses to asylum seekers – The significance of the government backbenchers' dissent
Research by Dr Caroline Fleay that explored the role and significance of the government backbenchers' dissent to asylum seeker and refugee policies in 2005 and 2006.
Insider resistance: The role of human rights in refugees' political actions (Lucy Fiske)
A research project conducted by Lucy Fiske exploring refugees' resistance and protest to immigration detention. This research sought to identify the political consciousness informing refugees' actions.
British Academy International Visiting Fellow (Karen Soldatic)
Karen Soldatic has been awarded a prestigious British Academy International Visiting Fellowship to work with Professor Carol Thomas and Dr Chris Grover, Lancaster University to explore the impact of the Cameron Government's welfare reform on people with disabilities. Karen will undertake extensive field work with Disabled People's Organisations, delivering a number of public forums and developing a set of civil society working papers for local disability advocacy groups. Upon her return to Australia further comparative research will occur.
Third World Quarterly : Disability in the Global South (Karen Soldatic)
Karen Soldatic in partnership with Helen Meekosha, UNSW, have recently had published an extensive set of research papers within the leading international Southern journal, Third World Quarterly. The papers provide a rich overview of human rights development processes that are emerging in the Global South with the recent development and ratification of theUnited Nations Convention on the Rights of Persons with Disabilities. This is the first set of international papers to be developed exploring critical debates within the development field and the implications for socio-political understandings of disability.
Disability in Rural Australia: ARC Discovery Grant 2011 – 2013 (Karen Soldatic)
Karen Soldatic in partnership with Barbara Pini (Curtin), Helen Meekosha (UNSW) and Carol Thomas (Lancaster, UK). In rural Australia 21.2 per cent of the population has a disability while in remote areas the number is 22.1 per cent yet rural disabled people are rarely heard in policy debates. This study, mapping the experiences of disabled people in non-metropolitan Australia is consequently of critical importance to government and disability advocacy groups.
Disability in the Global South: Beyond Northern Epistemologies (Karen Soldatic)
A compilation of research and practice papers focusing on disability in the developing world to be published in Third World Quarterly (2011). TWQ is the leading journal of policy and scholarship in the field of international studies, setting the agenda on developments discourses of the global debate.
Women with disabilities and Welfare Reform (Karen Soldatic)
Research exploring the impact of welfare reform in Australia on Australian women with disabilities.
Performance and cultural sustainability and wellbeing in Indigenous communities in Western Australia 2011- (Anna Haebich)
A 5-year Curtin University Senior Research Fellowship project to promote cultural sustainability and well being in Aboriginal communities in Western Australia by documenting Aboriginal public performance in here; providing new understandings of discourses on sustainability of Indigenous cultures in settler societies; and proposing new models of best practice for community projects addressing Indigenous culture and wellbeing.
The project includes creation of an eArchive of Aboriginal performance in Western Australia. Anna has a research fellowship for March-April to identify related material in the National Sound and Film Archive.
Anna is also working with Woolkabunning Kiaka Incorporated Roelands (made up of ex-residents of the Roelands former home for removed Aboriginal children) and Dr Dave Palmer (Murdoch University) on a cultural heritage consultancy to create a living museum as part of a major redevelopment of the site.
Women and leadership in a century of Australian democracy 2010- (Anna Haebich)
This project provides new understanding of the historical and contemporary dimensions of Australian women's leadership in a range of local, national and international undertakings during a century of Australian democracy. Research will build on existing innovative online information delivery through an eEncyclopedia. The results will be widely and freely accessible on the web, as well as within scholarly productions. Anna is focusing on Aboriginal women's leadership in Western Australia, working with Jeannie Morrison (Centre for Aboriginal Studies) and an interdisciplinary team of ten Chief Investigators and three participating national bodies.