News
October 2017
Centre Director speaks to educators about suicide prevention in Ballina
Professor Baden Offord, Director of the Centre for Human Rights Education, was invited to the east coast on 17 October to speak about 'How we think about suicide as educators from the perspective of an educator with lived experience' to the Southern Cross Distance Education teachers in Ballina. This was an extended 1.5 hour version of a talk he gave at the Suicide Prevention Australia national conference in 2015. Baden's approach is to think about questions of how we can create activated safe space, where dignity and social justice are the oxygen of everyday (and banal) relationships and encounters. In other words, how to create and ensure the learning environment is activated with respect, deep listening and compassion well before any 'trigger effect' can happen, when someone who is experiencing a 'crisis of self' is unfortunately pathologised by the systems that are put in place to protect. His approach to preventing suicide is through a social justice and human rights lens to understand what has been described as a 'crisis of self.'
Professor Offord referred to this quote and unpacked it in his talk: "We have come to think about suicide almost solely in terms of individual mental illness and risk, and as a consequence "an individualised, 'internalised,' pathologised, depoliticized," tragic event. But if suicide is a problem, it is as much a social, ethical, and political issue as a mental health one, and we need to be able to draw upon a wide range of discursive resources in order to adequately frame and respond to its possibility or actuality." Ian Marsh (2016).
(Pictures by Christopher Macfarlane)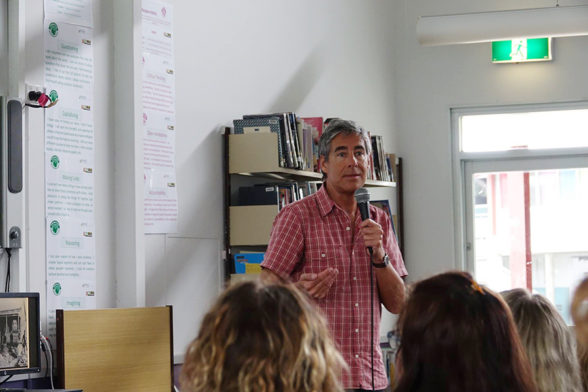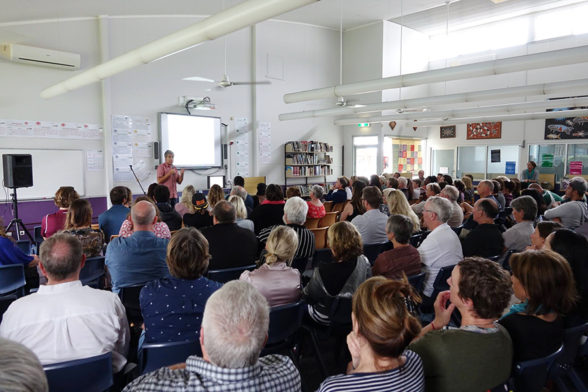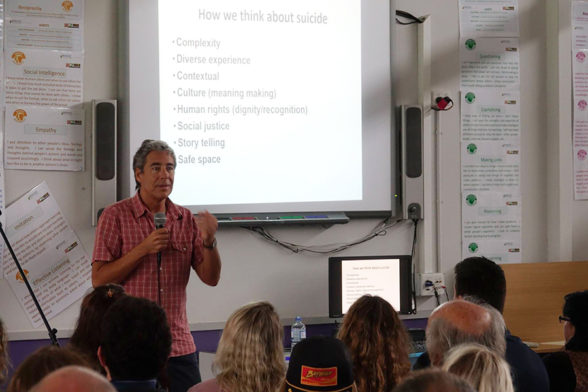 ---
September 2017
Dr Fleay presents papers at European conferences
Dr Caroline Fleay recently returned from presenting at the 11th European International Studies Association Conference in Barcelona, and participating in a UK conference that explored the experiences of people seeking asylum accessing university, in September 2017. The three day Article 26 conference at the University of Warwick was a wonderful opportunity to learn about the challenges and opportunities that people seeking asylum experience in the UK, and to be part of discussions about a range of university and community responses to further enable access to higher education. Caroline presented an overview of the project that CHRE has developed with people seeking asylum that aims to enable greater access to higher education. Findings from the Article 26 conference will help inform the development of national efforts in Australia to further enable access to higher education for people seeking asylum. Further information about the conference can be found here.
(Photograph by Rebecca Murray)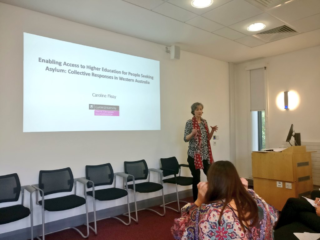 Post date – 22 September 2017
CHRE Supports Australian Marriage Equality
Curtin University's Centre for Human Rights Education is a centre for research, postgraduate teaching, critical scholarship and advocacy on human rights. The Centre leads ethical scholarship, enabling individual agency and community engagement on human rights and social justice through the study and promotion of human rights at local, national and international levels.
Intrinsic to its work, the Centre for Human Rights Education actively supports equality before the law, and equality in terms of social recognition, a core human rights value.
We therefore decisively and proudly support marriage equality in Australia as we affirm that marriage equality is a human right.
As such, we are committed to supporting and empowering the LGBTQI+ staff and students at Curtin University and in the wider community.
Professor Baden Offord, Dr Caroline Fleay, Dr Lisa Hartley, Dr Elfie Shiosaki, Dr Yirga Woldeyes, Dr Greg Watson, Denise Brown, Misty Farquhar, Gaylene Galardi.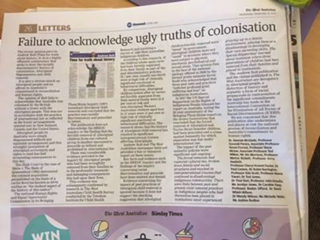 CHRE staff sign 'Failure to Acknowledge Ugly Truths of Colonisation' Letter
A Letter to the Editor was published on the 13th of September in the West Australian, entitled 'Failure to Acknowledge Ugly Truths of Colonisation', page 26. The letter was signed by 25 Curtin University academics and professional staff including Hannah McGlade, Marion Kickett, Simon Forrest, Kim Scott, Suvendrini Perera, Anna Haebich, David Whish-Wilson, Thor Kerr, John Kinsella, Carol Dowling, Caroline Fleay, Lisa Hartley and Baden Offord.
The full text, as written by Hannah McGlade and Suvendrini Perera, is as follows:
The recent Opinion piece by Andrew Bolt 'Time for truth about history' is a highly offensive piece of writing that seeks to deny the racially discriminatory history of Aboriginal dispossession and child removal. It is a vicious attack on Aboriginal people and an affront to the national commitment to Reconciliation and human rights.
The article was published by The West Australian on 31 August 2017 and was also published online by The Herald Sun prior to West publication. The Opinion of Andrew Bolt fails to acknowledge that Australia was colonised by the British without a Treaty with the Aboriginal people. This was not in accordance with the practice of international law as reflected in the Treaty arrangements entered into in New Zealand, Canada and the United States. Aboriginal people in Australia were simply dispossessed without any equitable arrangement and this wrongful usurpation of Aboriginal sovereignty and rights to land has had devastating consequences to this day. The High Court in the case of Mabo v The State of Queensland (1992) denounced the colonial acquisition perpetrated on the basis of a racist doctrine known as Terra Nullius as 'the darkest aspect of the history of this nation'.
The national Human Rights and Equal Opportunity Commission (HREOC) in its 'Bringing Them Home' Inquiry (1997) examined Aboriginal child removal and concluded that the practice was racially discriminatory and genocidal in intent.
The publication does not acknowledge the HREOC Inquiry or the finding that the forcible removal of children from one cultural group to another amounted to genocide as defined and prohibited by international law. There was considerable evidence provided to the Inquiry by Aboriginal people who had been wrongfully removed from their families as to the profoundly traumatic and damaging consequences this had upon their lives. This evidence was subsequently confirmed by research in 'The West Australian Child Health Survey' conducted by the Telethon Institute for Child Health Research and involving a survey of 5,289 West Australian Indigenous children.
According to this research, of the children whose main carer had been forcibly separated from their family as part of the past discriminatory policies, 32.7 per cent, (nearly 1/3) were at high risk of clinically significant emotional or behavioural difficulties. By comparison, Aboriginal children looked after by carers who had not been forcibly separated from their natural family were 21.8 per cent at risk and non-Aboriginal Western Australian children aged 4–17 years were found to be 15 per cent at high risk of clinically significant emotional or behavioural difficulties.

Andrew Bolt, The West Australian and Herald Sun newspapers have not provided a fair or balanced report on these issues. Key facts and evidence such as the HREOC Inquiry and the findings of the Inquiry concerning racial discrimination and genocide have been omitted and denied. Evidence concerning the impact of past practices of Aboriginal child removal is ignored because it does not support the shocking suggestion that Aboriginal children forcibly removed were 'saved' by government. Aboriginal children were not 'saved' in missions where they were subject to physical, emotional, psychological and sexual abuse. This Opinion flies in the face of the national apology offered in 2008 by the former Prime Minister Kevin Rudd who acknowledged that those past laws and practices 'inflicted profound grief, suffering and loss' on Indigenous Australians.
The Andrew Bolt publication and the claims made in the article are derogatory to Aboriginal people, a distortion of history and arguably a form of racial propaganda in contravention of the commitments Australia has made in the International Convention on the Elimination of All Forms of Racial Discrimination (ICERD). We are concerned that this publication also undermines and places at risk the national process of reconciliation and Australia's commitment to human rights.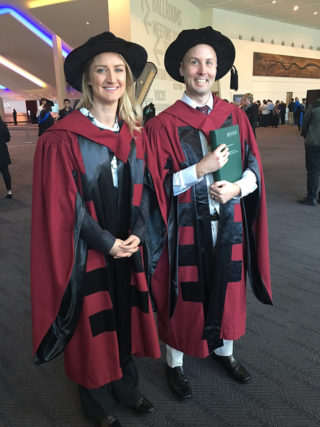 New graduates awarded
Congratulations to a number of our students who have finished their studies with the Centre in Semester 1, 2017. On Sunday 3 September 2017, five Masters and Graduate Certificate students attended the graduation ceremony that was held at the Perth Convention Centre. Congratulations go to Eleanor Cowell, Sara Denby, Georgina Diacos and Kate McGilvray.
Pictured is our latest PhD graduate, Dr Gerard Gill, with a member of his supervision team, Dr Lisa Hartley from CHRE. Gerard's thesis is titled 'Social Movements and ICTs: Addressing Complexity and Contingency'.
We wish all of our graduates the very best in their future pursuits.
---
August 2017
Post date – 30 August 2017
NCSEHE Research Grant Success – 'People Seeking Asylum: Access and Support in Higher Education'
CHRE academics Dr Lisa Hartley and Dr Caroline Fleay, with Dr Sally Baker and Dr Rachel Burke from the University of Newcastle have been awarded a grant from the National Centre for Student Equity in Higher Education's (NCSEHE) 2017 Competitive Research Program for their research project 'People seeking asylum: Access and support in higher education'.
The research project will explore the complex barriers to higher education facing People Seeking Asylum (PSA) in Australia, and evaluate university and community level support. Analysing primary and secondary quantitative and qualitative sources at macro-national, meso-institutional, and micro-practice/lived experience levels, the study will address a research gap by producing a national map of access barriers specific to PSA and university and community efforts. Through surveys and interviews with university and community sector stakeholders, and interviews with PSA, this study will examine the impact of PSA-specific scholarships and other enabling initiatives, identify best practice, and produce greater awareness of PSA engagement and barriers to higher education.
This research project aligns with the first 'National Symposium: People Seeking Asylum in Higher Education' being organised by the research team, in collaboration with the Refugee Council of Australia, The University of Melbourne, community sector organisations, and people living the experience. This one day symposium is being held at the University of Melbourne on 15 November 2017 and will bring together people seeking asylum, university and community sector stakeholders will focus on identifying emerging challenges and future opportunities.
For more information about the Symposium, please see the Event website.
Post date – 13 September 2017
Dr Woldeyes awarded at the 2017 Humanities Research Celebration
On Tuesday 29 August 2017, the Faculty of Humanities announced its annual research awards, for work published, shown or performed in 2016. Submissions for the Awards were competitive and showed the broad range of the Faculty's research. Congratulations to Dr Yirga Gelaw Woldeyes who received an award for his creative non-fiction writing in The Westerly in 2016 with Dr Rebecca Higgie, "Born Free, Created Poor: Coming of Age in Ethiopia". Congratulations to Yirga and Rebecca for receiving the Minor Creative work of the Year Award for an Early Career Researcher.
Young Hopes: Digital Stories by Young Refugees in Morocco and Turkey
On the 21st of August 2017, the Centre for Culture and Technology (CCAT) and the Centre for Human Rights Education (CHRE) co-hosted a digital story screening and open space discussion event with CCAT's Visiting Researcher Dr Burcu Şimşek.
Burcu is the founder and coordinator of the Digital Storytelling Unit at Hacettepe University in Ankara, Turkey and has facilitated over 50 digital storytelling workshops in Turkey and abroad since 2009 in cooperation with international institutions and non-governmental organisations. She is an Associate Professor in the Department of Communication Sciences at Hacettepe University and serves as the Vice-Dean for the Faculty, and also has been appointed an Adjunct Researcher for CCAT at Curtin University.
Burcu's involvement with storytelling began with a career in journalism and has since evolved to include digital storytelling, women's studies, oral history, migration studies and health communication with her master's degree on Women's Studies from Ankara University and her PhD degree from Creative Industries Faculty, Queensland University of Technology. Dr Şimşek was the convenor of "The 5th International Digital Storytelling Conference: Create, Act, Change" at Hacettepe University in 2013.
After an introduction by Professor John Hartley from CCAT and Dr Lisa Hartley from CHRE, the digital stories from young refugees living in Morocco and Turkey were then screened. A space was then created for participants to share experiences, thoughts and a discussion of new types of collaboration across borders. Attendees included community organisations and activists working with people from refugee backgrounds in Western Australia.
For more information about the event, please see the event website. More photographs from the event can be viewed on our Photo galleries page.
(Photographs by Gaylene Galardi)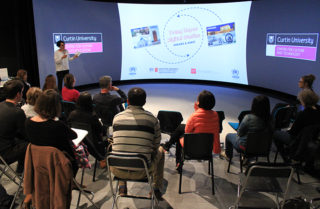 Annual Curtin University Human Rights Lecture presented Dr Waleed Aly
On the 19th of August 2017, prominent Australian writer, academic and broadcaster, Dr Waleed Aly presented the Annual Curtin University Human Rights Lecture to over 1300 people in the Curtin Stadium at Curtin University.
The Curtin Annual Human Rights Lecture, established in 2016, is a key initiative of the CHRE. The inaugural lecture was delivered by Professor Gillian Triggs, President of the Australian Human Rights Commission.
Professor Baden Offord, Director of the CHRE and Dr Haruhisa Handa Chair of Human Rights Education, was the Master of Ceremonies for the event, first introducing Marie Taylor who gave a Welcome to Country to open the event. Professor Deborah Terry, Vice Chancellor of Curtin University then officially welcomed guests and introduced the keynote speaker, Dr Waleed Aly.
Dr Aly spoke about 'Human Rights, Populism and the Crisis of Meaning'. He examined that it is often observed that human rights are being frequently assailed in contemporary politics and that what is less often examined is why it is that human rights have lost their political purchase.
Dr Aly's presentation looked at how the grand narratives of politics have evolved to sideline human rights ideals, and why assertive forms of nationalism are so well placed to occupy the resultant vacuum. He argued that for human rights to regain their persuasive power, they need to rediscover a way to become enchanted: imbued with some politically compelling meaning.
After a short question and answer session, Baden concluded the event with thanks to the speaker and presentation of a gift by Professor Terry.
The Centre would like to thank Dr Aly for his time in delivering the 2017 Human Rights Lecture at Curtin.
The lecture was recorded and you can find it on our Video page. You can also watch the video on Youtube. More photographs from the event can be viewed on our Photo galleries page.
(Photographs by Gaylene Galardi)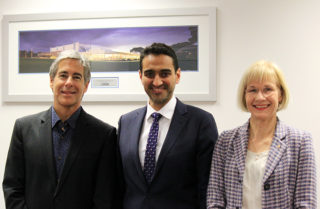 ---
July 2017
CHRE representation at the 2017 Social Impact Festival at the University of Western Australia
On Wednesday 26 July, Dr Caroline Fleay, Professor Baden Offord, Dr Lisa Hartley, Abbas Nabhani & Ghulam Raza Mumtaz presented a panel at the Social Impact Festival, University of Western Australia. The presentations explored a collaborative project coordinated by CHRE that includes people seeking asylum, community members, and the Centre's researchers and students. The project is an initiative underpinned by an understanding of the university as a place of refuge that provides opportunities for mutual learning between members of the university and the broader community, including people seeking asylum.
(Photographs by Christopher Macfarlane)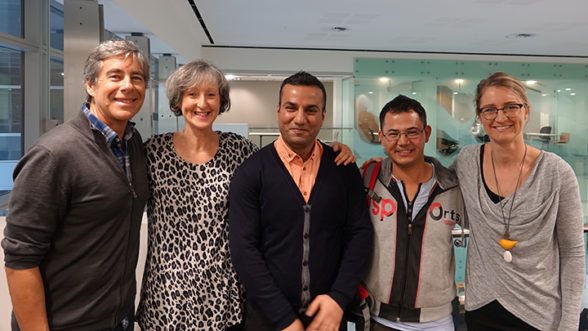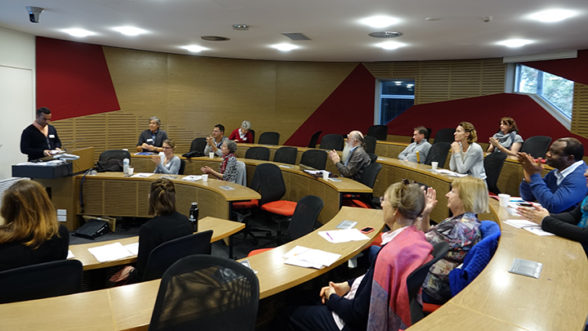 Pedagogies of Human Rights' Workshop
CHRE staff attended a one day 'Pedagogies of Human Rights' Workshop at Western Sydney University on 24 July. Hosted by the Whitlam Institute, 17 human rights scholars and advocates from a range of disciplinary backgrounds, met to discuss and present on aspects of how human rights are taught and learnt in both institutional and non-institutional settings. Attendees included Margaret Whitlam Chair of Social Work, Professor Linda Briskman (co-convenor), Professor Jim Ife (founder of the CHRE), Associate Professor Mary Anne Kenny, Dr Sukhmani Khorana, Associate Professor Karen Soldatic, Dr Lucy Fiske, Dr Caroline Fleay, Dr Lisa Hartley, Dr Yirga Woldeyes, Carol Dowling (Centre for Aboriginal Studies, Curtin University), Professor Baden Offord (convenor), Dr Sonia Tascon, Dr Dinesh Wadiwel, Dr Leticia Anderson and Dr Greg Watson.
(Photograph by Christopher Macfarlane)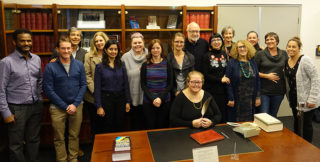 ---
June 2017
Post date – 19 June 2017
CHRE's Submission on Proposals to 'Strengthening the Test for Australian Citizenship'
The Centre for Human Rights Education (CHRE) prepared a submission for the recent community consultation on the proposed changes to citizenship set out in the paper Strengthening the Test for Australian Citizenship. On 12 June 2017, however, the Government controversially announced it would not be releasing submissions publicly, and two days later, introduced the Australian Citizenship Legislation Amendment (Strengthening the Requirements for Australian Citizenship and Other Measures) Bill 2017. CHRE holds very serious concerns about the impact of these changes on migrants who want to become part of the Australian community, particularly people from refugee backgrounds. Please read CHRE's submission here which outlines these potential impacts.
---
March 2017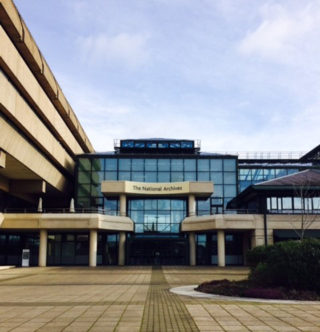 Dr Shiosaki visits the National Archives in London
Dr Elfie Shiosaki, Indigenous Post-Doctoral Research Fellow at CHRE, visited the National Archives in London in March to continue her research about discursive activism by Noongar people in Western Australia for Indigenous human rights. This visit was supported by the ARC Centre for Excellence for the History of Emotions, where Dr Shiosaki is an Indigenous Associate Investigator. Her research at the National Archives examined archival traces of petitions of rights written by Noongar people to political institutions in the United Kingdom in the 1920s and 1930s.
(Photo by Elfie Shiosaki)
Post date – 7 April 2017
Dr Caroline Fleay delivers 2017 Grace Vaughan Annual Lecture
On 15 March 2017, the Centre's Dr Caroline Fleay delivered the 2017 Grace Vaughan Annual Lecture at the University of Western Australia (UWA), speaking about 'Families Still Seeking Asylum: Political Impacts and Community Responses in Australia'.
Caroline's presentation outlined the adverse impact that Australian political leaders and their policies have on people seeking asylum and their families. It also explored a range of community responses that challenge these policies, highlighting acts of solidarity, activism and community building that defy and challenge political attempts to dehumanise, punish and divide.
The Grace Vaughan Memorial Lecture commemorates the life and achievements of Grace Vaughan, a social worker, social activist and parliamentarian, who was dedicated to the improvement of life at all levels and had a deep commitment to Australia's participation in the Asian region and to ensuring women's full participation in society.
For more information about the lecture, please see the UWA webpage where you can also find the recorded lecture. You will need Adobe Flash Player 9.0 or above to view the content.
(Photograph by Sharon Cueva, Institute of Advanced Studies, UWA).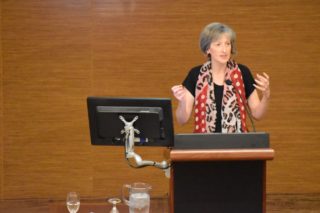 ---
February 2017
Post date – 14 April 2017
Refugee Alternatives Conference: Improving Policy, Practice and Public Support
Dr Caroline Fleay was a member of the steering committee for the Refugee Alternatives Conference that took place at the University of NSW in Sydney on the 22nd and 23rd of February 2017. Caroline also co-moderated a panel session titled 'How Do We Create Change? Exploring Different Approaches'. The panel explored a range of approaches that seek to bring about social and political change and generated robust discussion about the multitude of ways people currently advocate and agitate for change in asylum seeker policy.
More details about the conference can be found at their website.
Seeking Refuge in Australia: Contested Policies and Community Responses – Seeking Refuge WA Launch
On the 17th of February 2017, The Centre for Human Rights Education (CHRE) hosted an event at Curtin University titled 'Seeking Refuge in Australia: Contested Policies and Community Responses'. The public event, attended by more than 450 people, included a lecture given by The Honourable Michael Kirby AC CMG and the launch of the Seeking Refuge WA crowdfunding campaign.
After an introduction by Professor Baden Offord, Director of the CHRE, the program began with a Welcome to Country given by Associate Professor Simon Forrest, Elder in Residence at Curtin University, followed by the Wesley College Moorditj Mob Dancers and didgeridoo players.
Centre Patron, the Hon. Michael Kirby, delivered a lecture on the topic of 'Seeking Refuge in Australia', exploring the policy of detaining people seeking asylum who arrive to Australia by boat, and investigating when immigration detention becomes unlawful punishment. You can watch or listen to the full lecture via the iLecture recording.
Dr Caroline Fleay and guests then launched Seeking Refuge WA, a crowdfunding campaign that supports The Humanitarian Group's free legal clinic for people seeking asylum in WA.
Over the past few years, more than a thousand people in Perth who came to Australia by boat to seek asylum have been denied access to funded legal assistance. This has left most without the vital legal assistance they need to help prepare their refugee claim. Legal assistance can mean the difference between living in safety or being returned to a life of persecution.
The Centre for Human Rights Education is part of a community collective who organised Seeking Refuge WA to ensure that as many people seeking asylum in WA as possible get access to The Humanitarian Group's free legal clinic.
The crowdfunding campaign has since raised more than $90,000 which will mean 110 people on The Humanitarian Group's waiting list will be provided with assistance this year to prepare their refugee claim.
If you would like to watch the video of the event, you can stream the iLecture online.
(Photographs by Gaylene Galardi)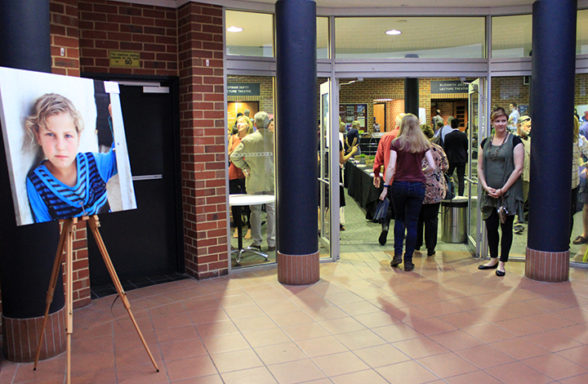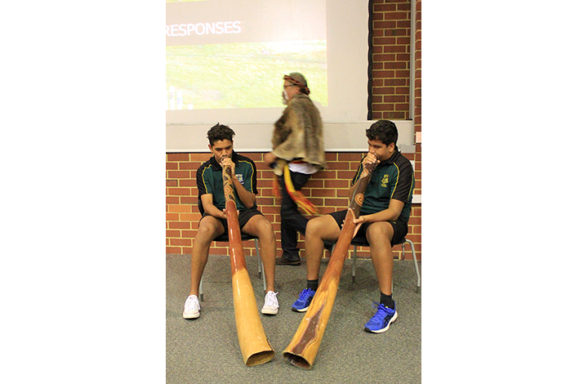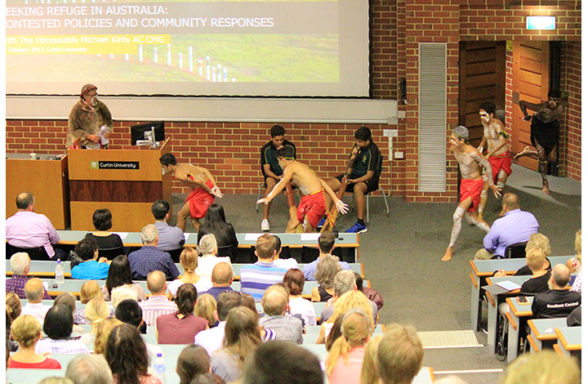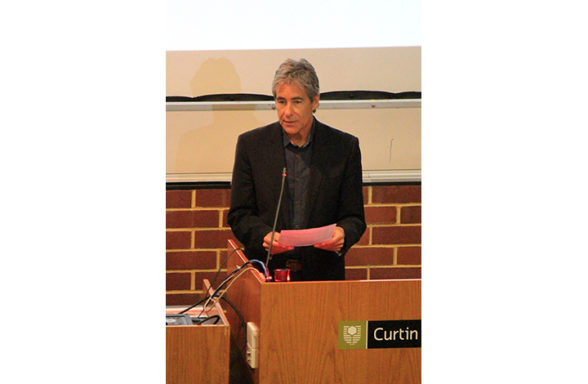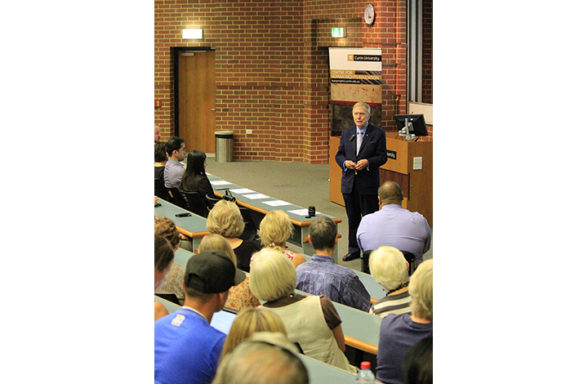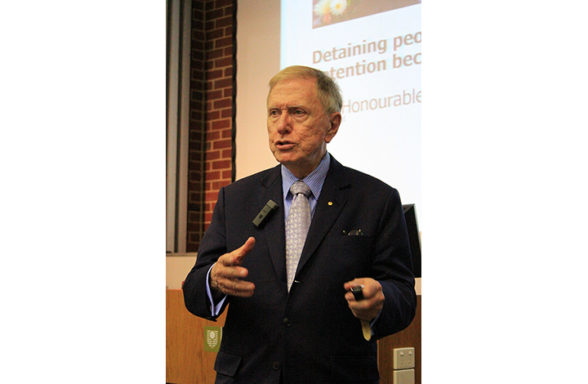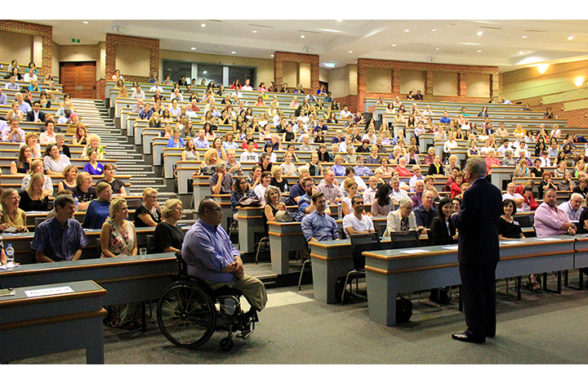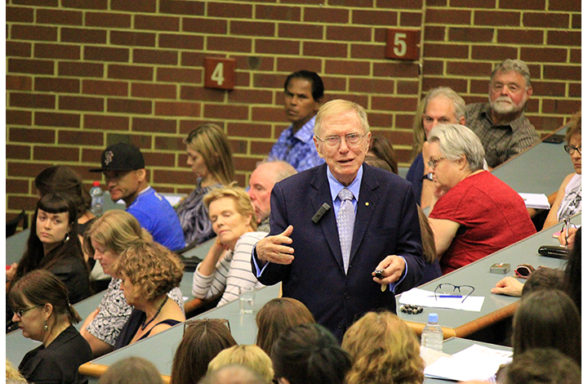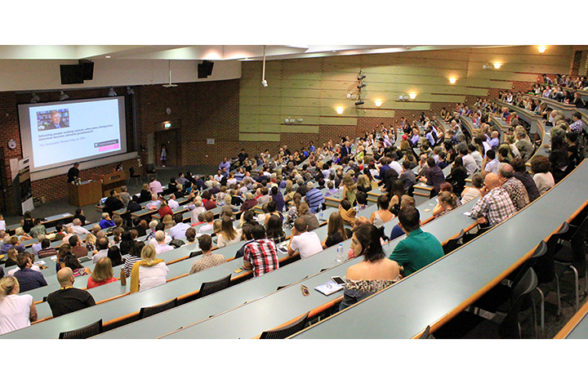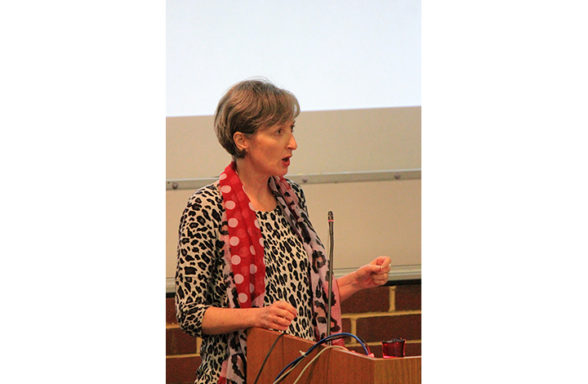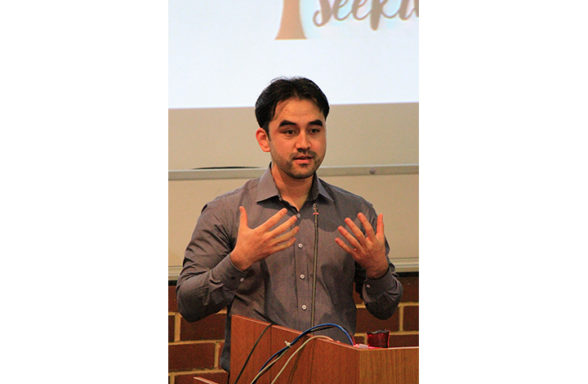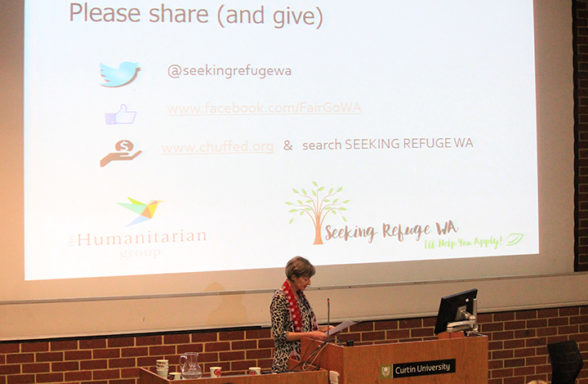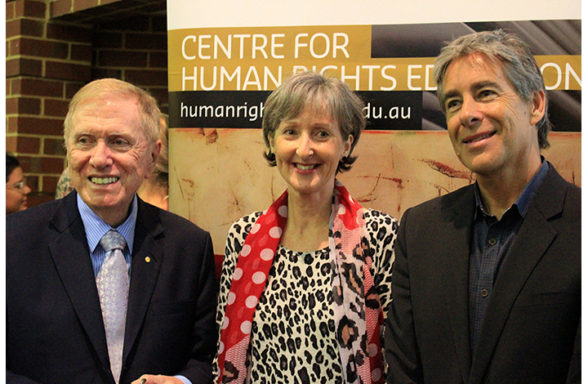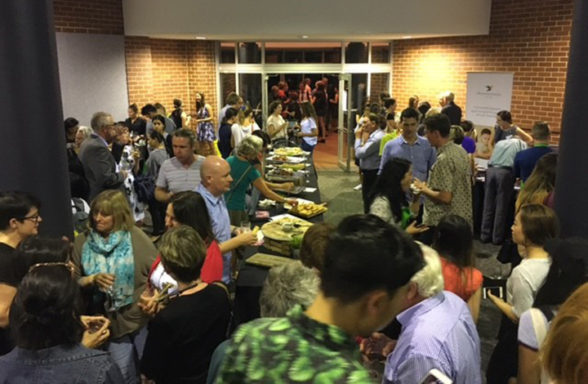 Student graduation with the Honourable Michael Kirby, February 2017
On the evening of the 16th of February 2017, the Centre for Human Rights Education (CHRE) celebrated the graduation of eight students who had completed either their Graduate Certificate or Master of Human Rights in 2016. Congratulations to Chloe Bartram, Logan Bousbury, Karina Chicote, Sandra Dutson, Alice Gibson, Bernadette O'Connor, Prattana Tublom and Johanna Webster. Centre staff had an informal celebration with students prior to the graduation ceremony on the Bentley campus.
The Honourable Michael Kirby, Patron of the CHRE, was also there to celebrate with students, and received an Honorary Doctor of Letters from Curtin University. He gave a great speech on the night, and we include here, a couple of excerpts:
"Nothing should be beyond the aspiration and attainments of a minority or group in this country. Human rights defend minorities, including members of the LGBTI minority like me. I am proud to be Patron of the Curtin Centre for Human Rights Education. It is dedicated to this enduring goal."
"So this is the challenge for today's graduates, including myself, on this special night at Curtin University. To remember and reflect to preserve the values of people like John Curtin. To take advantage of the extraordinary technology of the age we live in. To be engaged, beyond momentary pop ups, with deep questions, great music, fine literature and love of one another. And to lift our eyes from the screen to the beauty of the world and to the living reality of the people who bring us to magical moments like this graduation.
Many of those people are our witness. They are real and they are human. They are actual, not virtual images in a recorded drama. They are flesh and blood that is mortal. They will not last forever. On an occasion like this, just for a moment, we should set aside the selfies. We should look these special people in the eyes. We should note their lovely features, their blemishes, their wrinkles and even grey hair. We should grasp and hug them and say those old fashioned very human words. "Thank you. Couldn't have done it without you. You are precious. I love you. I will never forget that I did not do this by myself, selfishly. I did it with you and others".
To my fellow graduates, to our partners and families and loved ones and to each other, I say: seize the moment. Savour the reality. Put those mobile phones away for a while. Let them vibrate as they please. Imbibe the precious ambience of the here and now. And congratulations to all who join us on our special day!"
(Photographs by Gaylene Galardi and Christopher Macfarlane)