About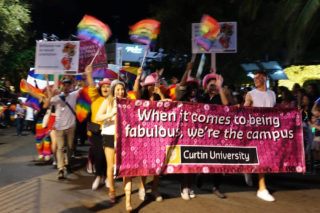 Conference 2018
Curtin University
Perth Campus, Perth, Western Australia
We acknowledge that the conference is being held on the traditional lands of the Noongar people.
The conference will be held in buildings 211 and 213 on the main campus of Curtin University.
The suburb of Bentley, located about six kilometres south-east of central Perth, is home to Curtin's Perth campus. In close proximity to everything Perth has to offer, it boasts 116 hectares of bold architecture nestled amongst beautiful landscaped gardens. With thousands of students filling the campus grounds every day of the semester, there's a real vibrancy to the place. Over the past decade, the campus has undergone some major changes, with a variety of stunning modern buildings now interspersed with the original 1960s architecture.

You will find a variety of accommodation nearby to the conference venue and further afield. Please have a look at the links below to find suitable accommodation in surrounding suburbs to suit your budget.
Around Bentley and nearby suburbs:
Perth City:
There are a number of hotels in the Perth CBD that would allow you to get to the Conference venue via public transport. The venue is between 9 and 12 kilometres from the CBD. Please do a search for accommodation that suits your budget. Directions to the venue from the city can be found under 'Getting to the venue'.
Fremantle:
Further afield, you can also find lovely accommodation close to the city's port of Fremantle.  The venue is approximately 18 kilometres from Fremantle. Please do a search for accommodation that suits your budget. Directions to the venue from Fremantle can be found under 'Getting to the venue'.
By train and bus
You can plan your journey using the Transperth Journey Planner and enter 'Curtin University Bus Station' as your End point. The campus buildings are a 3-5 minute walk from the bus station. There are accessible pathways throughout the University.
By car
The closest car parks to buildings 210, 211 and 213 at Curtin are D3, D5 and D1. See the Curtin campus map for locations of the buildings and car parks on the west side of the campus.
You can register your vehicle with CellOPark before you arrive for the conference, as there will be a fee to park your car in the campus car parks of up to $6 per day. You can download the app directly to your mobile and pay by credit card. Alternatively you can pay as you go when you arrive on campus at one of the CellOPark machines located in the car parks.
By ferry
If you are staying in the Perth CBD, you could also catch a ferry across the river from Elizabeth Quay Barrack Street Jetty to the Mends Street Jetty in South Perth, and from there you would take a bus to the university. Please check the Transperth Journey Planner for your travel options.
Conveners
---
Michelle Rogers (Director, Curtin Student Experience)
Baden Offord (Director, Curtin Centre for Human Rights Education)
Steering Committee
---
Baden Offord
Michelle Rogers
Sheldon Smith
Christopher Macfarlane
Carolyn Cross
Misty Farquhar
Gaylene Galardi
Elle Walker
Advisory Committee
---
Deborah Hunn, Curtin University
Hayley Davis, Curtin University
Fadzi Whande, University of Western Australia
Aaron Matthews, Centre for Aboriginal Studies, Curtin University
David Rhodes, Edith Cowan University
Jane Armstrong, Royal Perth Hospital
Panizza Allmark, Edith Cowan University
Wendy Cumming-Potvin, Murdoch University
Liam Elphick, University of Western Australia
Maria Pallotta-Chiarolli, Deakin University