Our students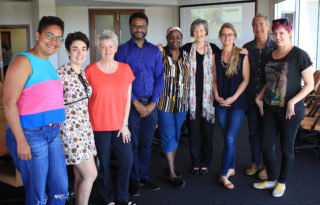 Our Masters and PhD students come from diverse backgrounds and countries, with many and varied experiences in a variety of disciplines. Read some student testimonials about studying in the Masters course, the projects students undertook to complete their Masters program, and read about some of our current PhD students' research for an idea of the variety of topics being covered by our student community.
Events
Please join us for this year's Human Rights Lecture titled, 'Race, Gender, and Black Lives Don't Matter in the Age of COVID', delivered online by distinguished scholar, Dean Adrien K. Wing, Associate Dean of International and Comparative Law Programs, and Distinguished Bessie Dutton Murray Professor, at the University of Iowa College of Law.

Centre Director Professor Baden Offord will be a Keynote Speaker at HERDSA 2021, the 43rd annual conference of the Higher Education Research and Development Society of Australasia (HERDSA) to be held in Brisbane Australia 7 - 10 July 2021.

Professor Baden Offord will be a keynote speaker at the CSAA 'Bodies in Flux' Conference at Edith Cowan University in Perth in December 2020.